One rubber cable is not like another!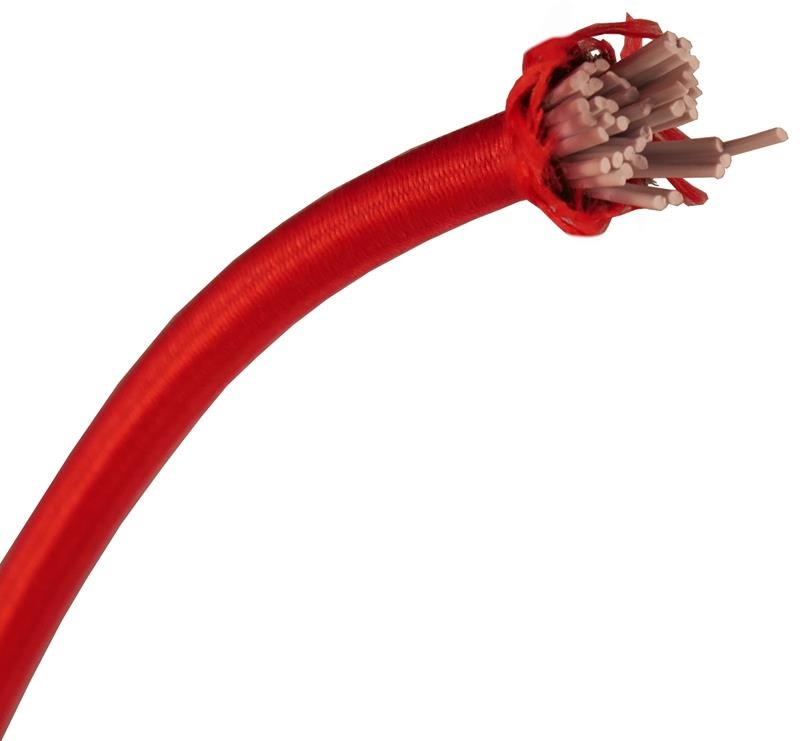 Our Rubber Cables
On the basis of the more than 150-year-old art of braiding, we are able to offer more than 120 different Rubber Cables ranging from 1.0 mm to 20 mm in diameter. And still today we mainly trust in producers from Germany. Our rubber cords therefore live up to a standard "Made in Germany". 
Depending on the application they differ mainly in the force/elongation characteristic. Furthermore, we utilize braiding materials in various colors and color combinations. Hereby every product receives its individual design. Upon request we can also provide correlating data sheets and force progression diagrams..
Structure of a Rubber Cable 
Rubber Cords from our production consist of various threads of Natural Rubber Latex or synthetic optimized Natural Rubber. These "rubber threads" are inherently sensitive to UV radiation, zone and several chemicals (more information on demand). Furthermore, the threads can easily tear due to overextension or friction. Therefore, the flexible core is protected from environmental influences and over extension with a textile braid (mostly polypropylene, polyester or polyethylene). Partially our bungees are even protected by two braids. 
Good to know: we do not use inferior, stretched latex qualities. 
The exact structure of a rubber rope is dependent upon the desired tensile properties, which can be influenced by the number of rubber threads as well as the type of braid. Therefore, we always have an appropriate elastic rope for almost every one of your purposes and if not – we simply design it according to your requirements.
Gladly, we offer you our diverse selection of rubber cords, rubber cables and elastic cables also by the meter, spooled or coiled. 
Please contact us for further technical questions.
P.S.: You probably have heard of our products under one of the following terms:
Rubber cables / elastic cables
Rubber cords / elastic cords
Expandables
Rubber strings / elastic strings
Expander cords
Expander cables
Compensating ropes
Bungees / bungee cords
Rubber bands / elastic bands
Sports expanders / tubes
Stroops